What We Do
Supported Living
Coquet Trust provides support to you to help you live a full and fulfilling life in your own home.. The support we provide can range from a few hours per week up to 24 hours of support every day depending on your needs.
The accommodation you live in can be rented or you could own your own home living on your own or with others.
We aim for everyone in supported living to follow their aspirations develop their skills find work if they want to and be as self-supporting and independent as they can.
We can;
Support you with Personal Care
Assist you with Shopping
Support and assist with cooking Provide and assist you with Cleaning
Support you when Paying bills managing your finances and tenancy
Encourage Social activities – making and keeping friends, sports and hobbies
Enable you to attend College courses
Provide support to enable you to Work
Facilitate participation in Religion
We have supported people to move into a supported living setting from the family home, hospital and residential care.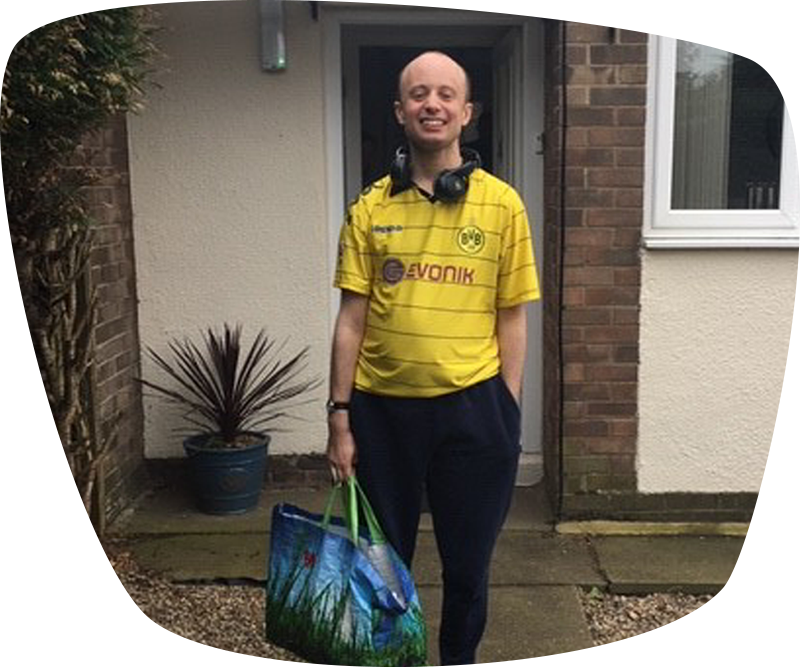 Read Dan's Story
In January 2002, just after New Year, we received a call from a social worker asking us to support a young man with a learning disability. It was his 18th birthday in a few days' time and he was being supported (in a bed and breakfast) by an organisation that could only support children.
Dan had a history of stealing cars and drug-taking. He was estranged from his family and had lived outside of the region for some time. Dan lacked confidence and at his weekly progress meetings he would not make eye contact with anyone, or participate in more than the odd grunt. His tolerance of the meetings was limited and he would often get angry or become bored and walk out of the room to smoke.
We spent several years working with his multi-disciplinary team and his mum and dad who were now engaging again with Dan to enable him to move forward in his life and explore more positive activities.
Fast forward to today. Dan lives independently in a flat. He has a job and supports himself without any input from paid staff. He has a car, a motorbike and a dog! He has friends and gets on well with his family. Occasionally, he drives over to Coquet Trust Head Office and pays us a visit – for old time's sake!
He had this to say about how the support he received from Coquet Trust helped him to achieve independence:
"The staff helped me to build my confidence by taking me to do activities like jet-skiing, go-karting and rock climbing. 'D' helped me to pass my test and buy my first car. 'L' made a scrapbook with me to record all the things I wanted to do, like climb Kilimanjaro or drive a Formula 1 racing car. I never climbed Kilimanjaro, but I got to the second round of a competition to become a racing driver!
Later, when 'J' worked with me, he helped me to get through a two-year college course and I got a Level 2 Diploma in Motor Mechanics. Whenever I was stuck, he was there, and he would even let me ring him for advice when he wasn't at work. If I couldn't get hold of one of my staff, I used to go across to the Coquet Trust office to talk to someone. There was always someone to give me advice if I felt stressed or had a problem. I was never alone.
When I finished college, the staff helped me after I got a job on a farm. They made sure that I kept the job by talking through with me any problems I'd had during the day and talking to the farm manager when needed. They helped me to look for other jobs too and to become more and more independent.
Even though I haven't had any support for nearly two years, I still keep in touch with 'D' regularly."